Wedding Lehgna Style | Bridal Lehnga Designs in Gold Colors and Tones
Gold - A Lavish and Regal Color
The color gold has always been associated with wealth and royalty due to the expensive metal that it mirrors. It used to be that only royalty would wear gold colored clothings, some of the clothings would be embroidered using actual gold threads. But today that has changed, and gold clothings are accessible anyone willing to spend money on it!
You will want to be picky when choosing your gold colored wedding outfit. Certain gold tones on different materials will take on a different look - you do not want a gaudy, or tacky gold wedding dress outfit! Always be sure to check the wedding dress outfit in natural light, and under artifical light so that you can see how it looks to the eye under different lighting situations.
This article focuses on bridal lehnga designs of a gold toned color. When in doubt, gold is a great color choice for your bridal outfit. This is because gold is a universal color; gold looks great on everyone regardless of their skin complexion - fair, tanned or dark.
Please check out the different inspirational pictures for ideas on choosing your own bridal lehgnas.
Gold Colored Bridal Lehnga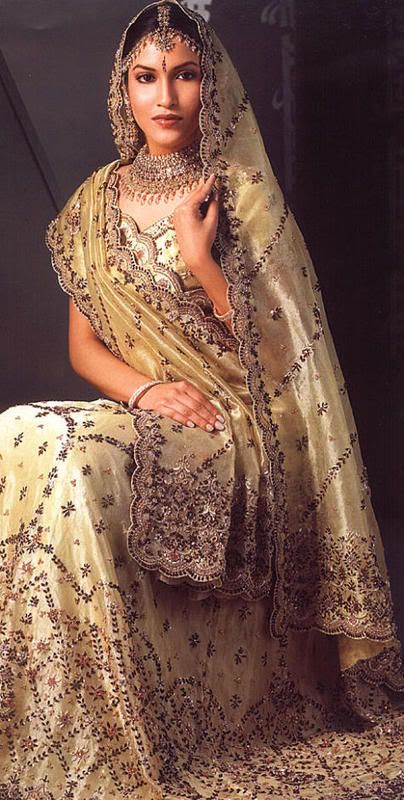 This is a great example of an exquisite bridal lehnga that is really lovely. The gold is of a muted tone, and the contrast embroidery makes the outfit stand out. There is not much heavy stone work on the light silk material, so the outfit is not excessively heavy to wear. A perfect wedding outfit that a bride can wear for her dinner reception where she will be taking lots of photos with her family, friends and guests.
This is a modest bridal lehnga with long sleeves. It is an outfit that is suitable for Muslim women of South Asian descent. The top piece is a long blouse, and almost all of the embroidery work is on the blouse. The skirt is a full one with a small border at the hemline. This is a demure look that I rather like. It is not as flashy as most Indian bridal lehngas today are, but this one is very suitable for a Muslim nikkah ceremony where religious sentiments of modesty have to be considered.
This bridal lehnga has a contrast look - a gold full skirt and a golden veil, with a lovely sea-green choli (short blouse). This is a good example of how it is possible to add different colors into your gold toned bridal lehnga. Usually, contrast embroidery is used throughout on the gold material (as in the first picture), or embroidery, stone work on the blouse and borders of the skirt.
If you think having too much embroidery is much too gaudy or ostentious for your liking (today's brides seem to prefer a demure and elegant look), then you can limit your embroidery and stone work to the blouse piece, as seen in the above picture of the sea-green bridal lehnga.
Click here to view
bridal lehnga designs that incorporate gold
with other colors.
Labels: Bridal Lehnga, Wedding Dress, Wedding Lehnga, Wedding Sharara
Featured Offer from Nina at India Wedding Designs:
Sign-Up For 21 Wedding Tips
Includes the following Topics!

Something Every Bride-to-Be Needs to Know
How To Survive (and Enjoy) Your Wedding Day
The Real Secret to Choosing Colors for Your Wedding Dress
Adapt the Latest Bridal Dress Fashions To Your Figure Type
Bridal Hairstyle Looks That Would Suit You Best
How to Avoid Bridal Make-up Disasters
The Wedding Make-Up Tip for Indians that is Almost Too Easy
For Radiant Skin, These Facial Methods Work Like Crazy
The Biggest Mistake Brides Make (and How to Avoid It)
The Best Way I Know to Get a Honeymoon Trip, Even When Your Budget Doesn't Allow It.