Beautiful Indian Bridal Wear - Blue-Green Trends
For today's blog article, the focus is on stylish and modern blue-green bridal lehngas that we have come across recently. These are really beautiful Indian Bridal wear indeed. Also, featured is an inspiration board of blue-green colored accents that can be incorporated into your wedding to create a blue-green theme.
Hope you are amply inspired by blue-green today!
Little Known Blue-Green Facts:
Blue is considered to be evoke feelings that are peaceful; blue also causes the body to produce calming chemicals, Green on the other hand symbolizes nature. It is considered an easy color on the eye. It is a calming, refreshing color. In the Middle Ages, brides would wear green to symbolize fertility.
Stylish and Modern Purple Bridal Lehngas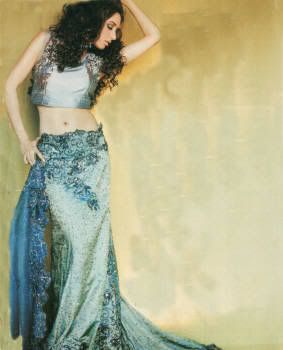 Blue-Green Wedding Inspirations
Labels: Bridal Lehnga, Wedding Color Trends, Wedding Dress, Wedding Lehnga, Wedding Sharara
Featured Offer from Nina at India Wedding Designs:
Sign-Up For 21 Wedding Tips
Includes the following Topics!

Something Every Bride-to-Be Needs to Know
How To Survive (and Enjoy) Your Wedding Day
The Real Secret to Choosing Colors for Your Wedding Dress
Adapt the Latest Bridal Dress Fashions To Your Figure Type
Bridal Hairstyle Looks That Would Suit You Best
How to Avoid Bridal Make-up Disasters
The Wedding Make-Up Tip for Indians that is Almost Too Easy
For Radiant Skin, These Facial Methods Work Like Crazy
The Biggest Mistake Brides Make (and How to Avoid It)
The Best Way I Know to Get a Honeymoon Trip, Even When Your Budget Doesn't Allow It.
Article Link