Mehndi Party | Plan for a Successful Mehndi (Henna) Party
Ideas for the Perfect Mehndi Party
What's a mehndi party? Well, it's the Indian equivalent of a bridal shower. It is one of the more important pre-wedding events that happens in the days leading to the actual wedding date. The bride's hands and feet are painted with intricate mehndi designs, which include geometric and figurative motifs such as flowers and leaf and vine patterns, and traditional hindu or muslim religious symbols, depending on the religion of the Indian bride. Therefore, it will be important to give it as much thought in planning for the mehndi (henna) party, as you would for your actual wedding day!
The mehndi party (henna party) is an affair that traditionally involves predominantly womenfolk in the family, although modern mehndi parties involve men as well, especially in modern Hindu families where there are mixed dances.
The vibrant red color of the mehndi is supposed to symbolize satisfaction and happiness in the future marriage. The mehndi can be applied to the bride's hands and feet the night before the marriage ceremony, or some days before it, by the bride's female relatives who spend several hours applying the designs. The process may take anywhere from three to eight hours depending upon the complexity of the designs and whether or not both the hands and feet are decorated.
So keep that in mind when planning for the mehndi party. Here are some tips for planning the perfect mehndi party.
1) Be selective when you make out your invitations. Why? Mehndi parties are usually more meaningful if you keep it small and intimate. Invite only the female relatives and close friends that you want at your party.
2) Sometimes, in addition to the bride getting her hands and feet painted with mehndi (henna) designs, certain female guests (bride's mother, sisters, best friends) are getting simpler henna designs done on them too. If you decide you would like that at your henna party, then be sure to ask your female guests, if they would like to have their hands painted with mehndi as well. Once you have a number count of the female guests who would like their hands painted with mehndi, then you will have an idea as to how many assistant henna artists you will need to have at your party.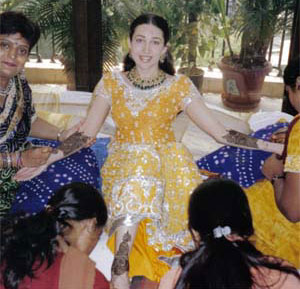 3) Plan on having entertainment for you and your guests. You can decide on the music that you will play - make a cd compilation in advance. You can also appoint a few of your close female friends to perform dances, or sing, as you watch while getting your hands and feet adorned with henna (mehndi).
4) If you would like to have a more elaborate mehndi party, then think about creating a theme with fitting mehndi decorations. For instance, if you are planning to have a mehndi party during the spring, summer or early Fall, then you may consider an outdoor evening party. You could install Moroccan bedoiun tents in your garden with lush interior decorations in the tents - pillows, cushions, hand made rugs, lamps, candles etc. If you do this, you should plan on having a generator installed too, so that you can have lights in the interior of the tents. If you prefer something more low-key, then consider having at your home, or in a restaurant (where you can book a room, or even the entire place). If you go with the restaurant, then you should plan to asking the restaurant to help with the decorations and catering.
5) This brings us to the food. Ask your guests if they have any dietary restrictions. To be on the safe side, plan on having both vegetarian and non-vegetarian courses - can't go wrong there!
6) Keep in mind that you will be having
wet
mehndi (henna) paint put on you. And you would be expected to keep them on your hands for sometime. So before you actually have the henna put on you, you should be attired in something comfortable and easy to remove (or adjust). Do NOT choose somthing to wear on your mehndi (henna) party just because you think it looks good. Pay attention to the material, you don't want something that itches your skin. That won't do when you're expected to sit still for a
very
long time!
6) Finally, be relaxed. Since you, as the bride, will be having the most elaborate and intricate mehndi (henna) designs done on your hands and feet, you can expect to be sitting still for sometime. Therefore, it is important for you to be occupied in other ways, so that the sitting does not become tedious. Plan a programme for the night (at least for the duration it takes for you to be sitting still while the henna artists works on you). That way, you will be happily distracted watching some form of entertainment as you sit for the mehndi (henna) appplication process.
And most of all, have fun! It's your bridal mehndi (henna) party. And you're getting married soon!
Labels: Bridal Henna Designs, Mehndi Party, Night of Henna
Featured Offer from Nina at India Wedding Designs:
Sign-Up For 21 Wedding Tips
Includes the following Topics!

Something Every Bride-to-Be Needs to Know
How To Survive (and Enjoy) Your Wedding Day
The Real Secret to Choosing Colors for Your Wedding Dress
Adapt the Latest Bridal Dress Fashions To Your Figure Type
Bridal Hairstyle Looks That Would Suit You Best
How to Avoid Bridal Make-up Disasters
The Wedding Make-Up Tip for Indians that is Almost Too Easy
For Radiant Skin, These Facial Methods Work Like Crazy
The Biggest Mistake Brides Make (and How to Avoid It)
The Best Way I Know to Get a Honeymoon Trip, Even When Your Budget Doesn't Allow It.